Data centers
One of our main goals is to provide safety and security of data, uninterrupted access to databases and applications, and low latency. To do so, we have meticulously chosen data centers from all over the world. The crucial parameters included location, availability, compliance, power density, redundancy, etc.
Find us around the globe
Our data centers are located in USA, Netherlands, Luxembourg, United Kingdom, Singapore and Hong Kong. Thus, you can choose the most convenient option to decrease latency and, if necessary, arrange geo-replication of your data to a geographically remote area.
Safe and secure
A modern data center is like a fortress that is securely protected from unauthorized access and intruders. When we were choosing data centers, we were thinking of safety and security of our customers' data not only on hardware and software levels, but on a physical level as well. Our data centers are protected against physical intrusion and are equipped with sophisticated multi-level access control systems, including CCTV cameras, biometric access, and ID check systems.
However, even the strongest protection against external threats is pointless if sufficient resiliency of key elements of the data center infrastructure is not provided. Our data centers have Tier 3 (availability of 99.982%) and Tier 4 (99.995% availability) certification provided by the Uptime Institute, as well as SSAE 16 SOC 2, Type II. Our customers' data is well protected in terms of information security. All data centers have valid certificates ISO 27001:2013 and PCI DSS. Note that PCI DSS allows processing payment cards' data and satisfies data protection standards of Visa and MasterCard systems.
While assessing the data centers, we try to take into account everything that is important for our customers. Strict access control, high availability and information security must be complemented by an efficient management system. Therefore, a quality management system ISO 9001: 2008 operates in all our data centers.
Really cool
To ensure stability of our data center PODs, we keep them really cool. The air conditioning system of modern data centers is usually arranged according to the N+1 scheme. We care about reliability and stable performance of our services, so we always try to come up with the most redundant solutions. Our facilities are equipped with 2N redundant cooling systems.
We use hot & cold aisle containment cooling scheme in our data centers. It provides consistently low temperature in the cold aisle and low PUE (Power usage effectiveness) parameters.
Going green
We pay attention to every aspect of data center performance, including the impact on the environment. Modern DCs actively apply energy efficient technologies and use renewable energy sources. Our data centers are not an exception, as they use green energy, and the average level of PUE is within 1.1 to 1.5 (for Tier 4 DC).
POD design & concept
From the very start, we decided that price competition was not the way to go. Sacrificing quality for the sake of low prices was never an option. We were well aware that in the end this approach would not really pay off. We wanted to find an exquisite solution that would enable us to decrease our expenditure without affecting the quality of our services, and offer our clients excellent quality, great redundancy, fast provisioning and reasonable pricing at the same time. and we succeeded.
The smart scheme
We have come up with our own cost — effective solution. We have optimized everything we could and we got a fully uniformed version of POD that allows operating many servers and provides genuinely high redundancy and fast scalability.
Our standard POD consists of 40 racks of 36 servers per rack. Each server has two Intel X540 or Intel I350 network cards. Each card has two interfaces: one for a private network and one the public one.
This is exactly how we provide high redundancy. Finally, each spine-switch is connected to the router. In this scheme, there is no single point of failure (SPOF).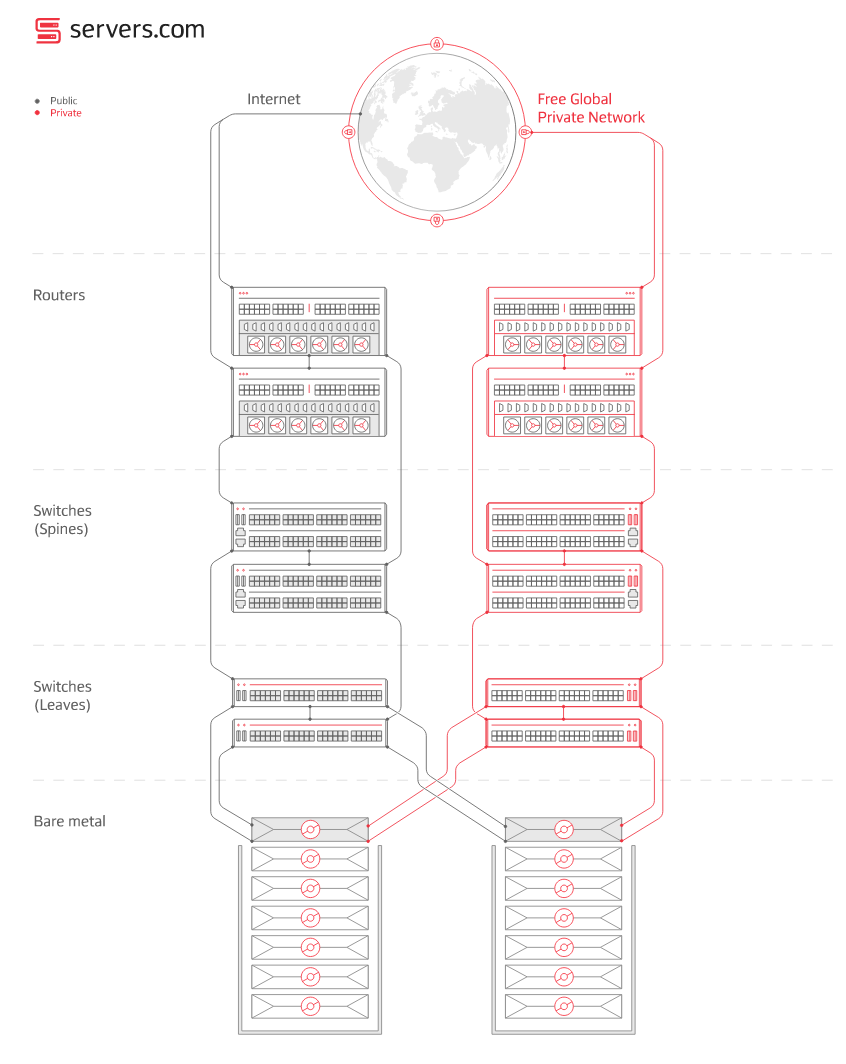 Zero touch design
We tried really hard to optimize everything we could. We have optimized cabling as well and thus created a system called Smart Cabling solution. Our cabling system between servers and switches, and the switch system between the racks enabled us to utilize 100% of the ports. Thus, we reduced network equipment expenses by approximately 25%, and this is part of our reasonable price policy.
One can fully appreciate this system in the conditions of zero touch design. Our servers are preinstalled in the racks. Cables are connected completely and thoroughly, and nobody touches the cables afterwards ever.
Multiple reconnections increase possibilities of human error. We decided to eliminate this factor completely. By decreasing customers' risks with help of zero touch design, we have decreased server provisioning time to 40 minutes. Since we know the hardware configuration options in advance, artificial intelligence can deal with provisioning, as its performance is stable and consistent, and it does not allow errors.
Completely open
We allocate servers in open racks. This option allowed for using our Smart Cabling system so we could come up with a cost-effective and SPOF-less POD solution.
The outcomes
We have developed a fully uniformed standardized POD. Such a POD provides fast fulfillment and, if necessary, allows for fast scalability practically in real time mode. All servers are ready to be installed immediately. Every POD has an integrated set of hi-end Dell servers, as well as Brocade switches and routers. Thus, each POD has a predictable power budget.
We know exactly the level of energy consumption and we utilize our energy supply efficiently without having to make unnecessary margins, which allows us to maintain reasonable prices policy. Due to the Smart Cabling system and well-thought switching, we have achieved 100% efficiency of ports utilization and optimal use of network equipment. As a result, owing to POD standardization and well-designed engineering solutions, as well as replacement of manual labor by artificial intelligence, we have been able to keep the server costs low and their entry into service fast.
Top carriers
Apart from security, reliability, and redundancy of all key elements of the infrastructure, the crucial features of a data center include access to the main channels of top carriers. We have ensured fast network performance and high network availability for our customers.
You will find the top carriers on the list of our providers, including TOP-3 global providers, such as Level 3, Telia, and NTT.
Smart Traffic Dispatcher
Smart Traffic Dispatcher, which is our know-how, helps to optimize distribution of traffic on the main channels and increase the performance speed. The system monitors the load on the main channels and tries to use them as efficiently as possible. Furthermore, Smart Traffic Dispatcher automatically reroutes connections to reduce latency.
The system allows for decreasing expenditure and increasing the traffic speed. As a result, our clients get a faster network at a lower price.
Free Global Private Network
Using the main channels of the top carriers alongside smart traffic routing, provides fast loading websites and client applications, and that is not all. Fast network and low latency allow for using all features of our Global Private Network.
The traffic exchanged between the customer's dedicated and cloud servers, including cloud storage within the Global Private Network is not rated. Moreover, the customer is provided with a fully functioning personal private network that is isolated from the public network on a hardware level. It is also isolated from private networks of other customers on a software level.
Suggested Articles